Almira Skripchenko - Miss August 2005
Nationality: France
Birthday: February 17, 1976
ELO: 2474
Title: IM, WGM
This French chess player has achieved the FIDE International Women's Grandmaster title. She won the second European Open Women's Chess Championship in 2001.
In 2004 she won the North Urals Cup, the second international super-tournament for female chess players. Held in Krasnoturinsk, the 9-round single round robin tournament featured ten of the strongest female players in the world. Skripchenko finished a half point ahead of Maia Chiburdanidze, the former Women's World Champion, and also defeated her in their individual encounter.
She has served as treasurer for the Association of Professional Chess Players (APCP).
(The closest you'll ever get to a nipple slip in Chess)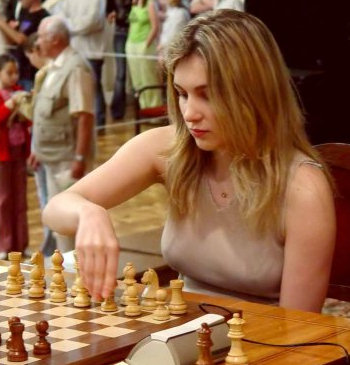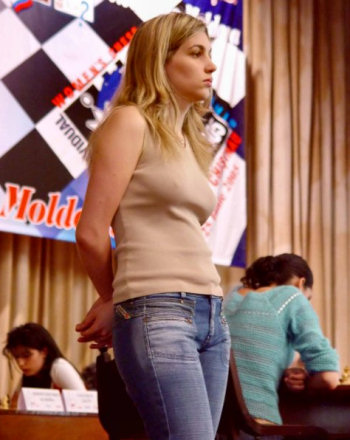 (Smuggling Tic-Tac's across the Iron Curtain ?)
Irina Krush, Accoona American Champion, and Almira Skripchenko, Accoona French Champion, will compete at the Russian Samovar, 256 W 52nd Street, NYC, (212) 757-0168 on Thursday, September 16, 2004. 1:00 PM Interviews and pictures, drinks and hors d'oeuvres!! 2:00 PM Matches Begin. To R.S.V.P please contact Paulina (212) 842-4999, or Paulina@accoona.com.
Almira Skripchenko was crowned European Women's Champion in 2001 and active Top-Rated French Woman in Chess for 2004. Irina Krush, in 1998 was the youngest woman to win the American Championship and is currently the active Top-Rated Woman Player in the USA.
ELO tracker
Games played with White
Games played with Black