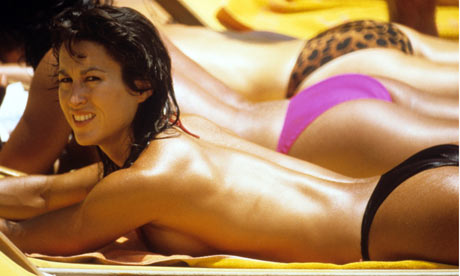 [Waikiki Beach]
Sunbathing Girl Lying on Her Stomach with Her Top Off's Inner Monologue: Look at this creep trying to check me out. He thinks because he has sunglasses on I can't see what he's up to? It serves this slimeball right that I'm on my stomach so he can't see anything exciting
My Inner Monologue: (slow clap) Hats off to you. Wonderful effort. You turned over onto your stomach, you have your head down instead of arching your back up - you've done everything you're supposed to to shield yourself from my leering eyes. But there's just one little thing you forgot. And that, my dear, is SIDEBOOB
Sunbathing Girl Lying on Her Stomach with Her Top Off's Inner Monologue: Jesus what is this guy staring at the sliver of skin peeking out of the side of my chest? Is that how desperate he is? Gross
[Sunbathing Girl wraps her towel closer around her chest, though a tiny bit of Sideboob is still peeking out]
My Inner Monologue:
Touch
é. You may have won this battle, but I'll win this war. And it's not only me - I've got an army millions strong of leerers. We few, we happy few, we band of brothers (and some lesbian sisters) are on patrol from these sands of Oahu to the beaches of Brazil, from the coast of Cannes to the margins of Malibu. For I ask you this - if a Sideboob sits on the beach and no one's there to see it, is it really a Sideboob?
Sunbathing Girl Lying on Her Stomach with Her Top Off's Inner Monologue: Oh. My. God. He is still standing there. I'm gonna get my Dad over here
[Sunbathing Girl waves over her Dad, a ripped Alpha All-American type in board shorts]
My Inner Monologue: Fuck - is that her father? Oh shit I gotta get out of here.
[I turn in the other direction]
Me: Rich! There you are! You gotta tell me when you move our stuff!
And then I ran away in fear...
But not without having made a deposit. Not at Citibank, or Chase, or even Bank of America. No in these frightful days of Bear Stearns blowups and Morgan Stanley meltdowns, I made that deposit at the only institution a man can trust anymore - the Sideboob Memory Bank